On Sunday the 1st of April 2018 I arrived in Belfast, from this day on I will call Belfast my new home for two months.
After the landing we drove together to the Europe Centre bus station. From the Europe Centre we drove to our accommodation. Our house looks great.
After our roomtour we went to the Tesco Epress for our food shopping.
When we returned home, I cooked for Dominik, Phi and myself. After my dinner I puted in the bed, because I was very tired
On Monday the 2nd of April 2018, we all had free time. I started my day at 8am with a typical German breakfast.
Later I went with Dominik and Phi to the Tesco Express for shopping fries, meat and salad for the dinner. After our shopping we invited Giang, Son und Tim to eat with us. After our meal we played uno and we had a lot fun. We played until 11pm.
On Tuesday the 3th of April 2018 I had to stand up at 8am, because we had an meeting with the "Intern Europe". After the meeting we visited the Belfast City Centre. I saw the City Hall and another places.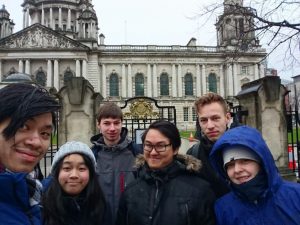 After our trip we went togehter to "Subway" for lunch.
We finished our lunch and got home.