(quote from unknown)
8th of April in 2018:
One of the days with good weather.
Our plan for was to visit the St. George´s Market. It takes place in a hall (Indoor Market), where the exhibitors sell local art and craft and food. It holds a weekly market on Friday Variety Market, Saturday City Food and Garden Market, and Sunday Food, Craft and Antique Market. It was built between 1890 and 1896.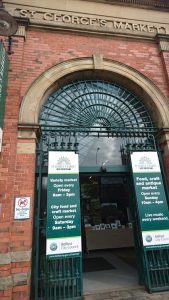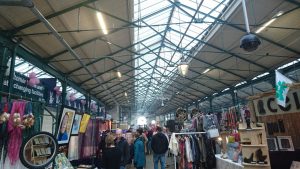 We (Son, Dome, Jenny, Giuliano and me) passed by a stand, where a friendly guy offers us some bread with meat and a sauce. It convinced me, I decided to have one and asked for a picture for my blog. It was a very delicious fluffy bun with pulled pork and a spicy chilli sauce. Spending 6 Pound was worth. I have to come back again and have it one more time.
They have more exhibitors for cakes, paella, crepes but also tea, books, paintings and handmade hat, cards and so on. The owners are amiable. I liked the feeling, and I decided to come back on another day to buy some souvenirs here. One hour later we left the market and walked to the Titanic Square. At the beginning of Queen's Bridge, there is a 15-metre impressive statue, The Beacon of Hope. It is the second largest sculpture in Belfast after RISE. Thanksgiving Square in Dallas (Texas) inspired the artist.
Beside to the river Lagan, a fish statue is standing there. 'The Big Fish' or 'The salmon of knowledge', which 10 metres long, was a symbol for regeneration of the River Lagan and the history. 'It has beautiful blue scales, which are made up of ceramic tiles describing different scenes from the city's history.' according to visitbelfast.com.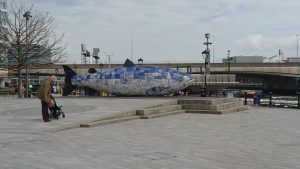 We wandered further into the Centre; we passed the Albert Memorial Clock Tower, which is askew or leaning. It named after Prince Albert, Queen Victoria's consort, to commemorated him.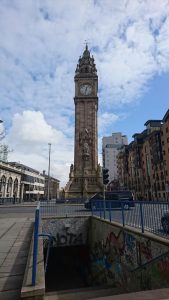 The walk continued along the Queen's Square. Then we went into a souvenir shop, I bought some postcards. When I walked further, there was an American Candy shop too. We enjoyed some live street music. She has a great voice.
After a long walk at home, I decided to do my's laundry. I was a little bit nervous about using the dehumidifier for the first time because I don't have such a device at home. But as a future IT person, that shouldn't be a problem …
While I am waiting for my laundry, I started to write my blog entries. So many happened, and I am afraid to forget some essential details or memorable stories.
For dinner we had pasta, we met another flatmate, who also works in IT. He told us about Dublin. In the evening I continued my series on Netflix.
All in all, I have to admit that the day was quite relaxed and enjoyable.
Once I talked about To-Do-List for Belfast, so let me show you my ideas:
-seeing a lot of attractions or places (Titanic Museum, Belfast Castle, Crumlin Road Gaol, The Dark Hedges, Giant's Causeway …)
-having fish and chips and an English breakfast
-visiting an Irish pub and having an Irish beer
-improving my English language
-doing a Black Cab Taxi Tour
-having fun
and so on …
-Huong Giang-