(quote from Son, one of my afib classmates)
13th of April in 2018:
Foreword
First of all, I want to make clear that the jokes about King Dome and his afib domain are just for fun. And they based on a story, which occurred one year ago. I don't want to embarrass Dominik. He is a great and talented guy.
By the way, Happy Birthday Dome, I wish you all the best, and please stay the way you are.
The root of his destiny started on the 11th of April in 2017. After a hard-working day, all of us were waiting at the bus station. Because I was forgotten to give a lecture about a CompTIA A+ theme, (to be honest, I was relieved because in general, I am afraid of standing in front of classes and do work teacher typically do), Dominik made a joke about that he was going to tell the instructor about it. Son's reaction to Dominik sentence was: 'Giang if you want to escape, you have to defeat the king.' The result of this story is that we (just Son and me *laugh*) decided to crown Dominik as the king (even Dominik doesn't like it) because, in every certificate, exams and school grades he is always the best. Two days after that we crowned him with a crown from Burger King …
The Story of King Dome and his afib domain (kingdom)
Once upon a time, there was a boy, who is destined to be the king of afib domain. His name was Dominik, but all of us call him Dome. He was crowned king at the young age of 19. Because of his talents, his skills, his mercy and his fondness for brownies; he is known domain-wide in our afib domain.
We, his consultant, tried to keep the civil disturbance down and persuaded the civilians with king Dome's way of life 'Come to the dark side; we have brownies'. Of course, not everyone is pleased with his administration(government), so they tried to dethrone him and established a republic. We call them 'the revolutionist'. Don't worry he has loyal and trusting retainers. Let's see if they were enough to defend his kingdom.
…
His coronation has been for one year until now.
Today is an important day for the afib kingdom. Son and Giang, the most trustful retainers of Dome I, woked him up to congratulate him and discuss the details of today's and tomorrow's plans.
In the morning he has to attend a meeting about the future expansion of the kingdom. His destination of the increase is Belfast. Recently, News about increasing of civil disturbance reached the ears of Dome I.
In the afternoon he arranged a banquet because he received the most frightened enemies in his kingdom, the leader of the revolutionist and his clan.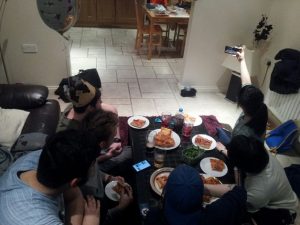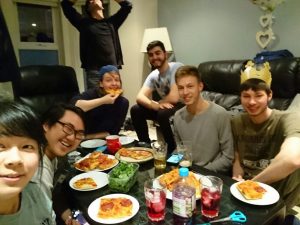 For a birthday of our King, a present isn't missing. A game 'Werewolf' and a helium-filled balloon were the presents from his loyal retainers.Because he also hosted some foreign guests of another nation, his employees served pizza and good drinks. Definitely, after a good meal, there mustn't miss good games. 'Werewolf' was the main game for entertainment today. It is a roleplay, where the players have to find out, who is the 'Werewolf', who tried to eliminate everyone and be the left one to win this game. The narrator for this game was Emil (he is one of the housemates of Dominik's house.), who did a good job. Everybody enjoyed themselves. The funniest part was when Tim always have been the first one, who couldn't play the game until the end. That continued for four rounds. In the end, everybody seems happy. However, the whole day was also used to protect the peace of his country. Making his guest satisfied and then holding a pow for a peace negotiation is a fantastic idea. We have to say, our King, is smart when it's about his kingdom.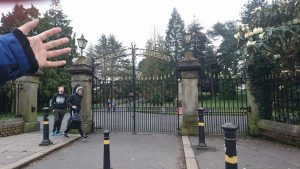 14th of April in 2018:
The next day, king Dome wanted to mingle because of his care character trait. Son and I went to our meeting point with our king. On the way, we have to pass the Botanic Garden. It is a beautiful park, where to do sports but also relax and have the barbecue there. The air was fresh and bloomy. It has a big green scenery.
His new retainer Phi accompanied King Dome to our meeting point. After shopping in an Asian market *oh my Buddha, I have to admit that I was so amazing and I got distracted by all the products they offer.*
Then we went to King Dome's castle and prepared his meals for the day. The menu consists of Mapo Tofu (a Chinese dish from the province Sichuan), Tempura with mushrooms, aubergine, onions, chicken breast and prawns (which were battered and fried) and noodle soup. Of course, Dome's beloved Brownies aren't allowed to be missing. Because of Dome's birthday, his anniversary and also his gratitude to his retainers and employee, he invited us to a game called 'Escape room'.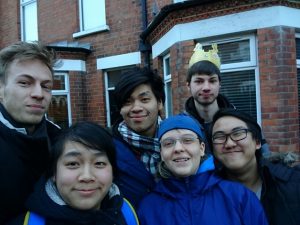 The Escape room was at 'Escape Belfast'. The theme of our game was 'The Preacher'. Because of spoiler alarm, I won't tell much about it. We had to challenge the notorious Belfast serial killer 'The Preacher' by solving the puzzle to escape from the rooms. At first, we were hooded, handcuffed, locked in a dark cell and had to find clues to get out. Teamwork, the power of deduction and also knowledge were essential skills we had to have. We did quite good for the first two rooms. By getting a look open, we got another clue to solve the puzzle. But we got stuck in the last room. Because of a stupid look, which we couldn't open the backpack of a victim in this game, even we had the correct number combination. In the end, we couldn't finish the puzzle, couldn't escape and would be killed by 'The Preacher'. It was frustrating but also exciting and enjoyable; I have to recommend everyone to try an escape room at least once. Maybe not a horror story but another one.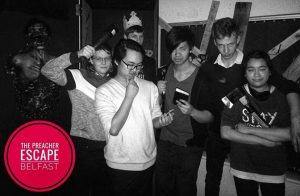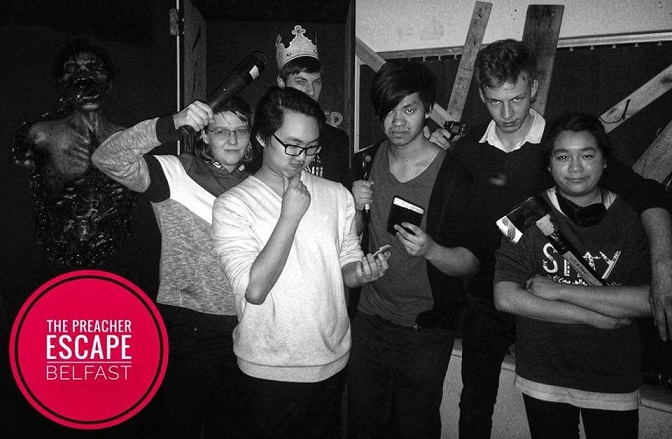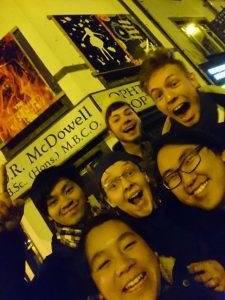 Once in a while, a retainer is also allowed to have time off. That's why after that, we went to Cuckoo, an Arcade bar and nightclub. The bar had games to play like Guitar Hero, Mario Kart or table tennis. I tried a Guinness (an Irish stout), which wasn't my taste. All in all, I enjoyed the last two days.
King Dome I is a great King, which deserved to be one the throne. I, as one of his most trusted retainers, have to say that is worth to work for him. And if he is not going to abdicate the throne, he will be the king forever.
The End
-Huong Giang-
PS: He can't abdicate the throne …