(quote from unknown)
6th of May in 2018:
A long time ago, we planned to have a barbecue because of JDP's excellent accommodation. The sunny weather suited the best. But first of all Jenny, Phi, Dome and I went to St. George's Market. We met Tim, Robert and Giuliano there.Tim didn't have visited it yet, and some of us wanted to go again. The atmosphere was still great. Phi and I bought a present for our mums and the hilarious part of this day was that the shop assistant came from Vietnam as well. I didn't talk in Vietnamese with her. She asked us about Belfast, what we are doing here; if we enjoy our stay and where we are coming from. After enjoying a small snack, we went by foot to Tesco Superstore. The warm temperatures tampered me, and I was exhausted. On the way to the supermarket, we stopped at 'Cafe Melrose' and 'Eat Street' and had a milkshake or a smoothie. Then we bought our groceries for the barbecue party. Robert, Phi and I went by Taxi. We passed the others and Phi screamed from the window: 'Tim!'. The whole preparation and barbecue with the others were very significant. I enjoyed it a lot. The food was quite delightful as well.
A party without games isn't a real party. We played 'Spyfall', which is similar to 'Werewolf'. At first, every person gets a role and a location. The spy doesn't know the place. The others already see it with their characters. You have to find the spy in your group by asking the participants the significant question, which you can find guilty one. On the other side, the spy needs to find out the location by asking the question as well. With the answer of the others, you will catch the spy. It is hilarious if somebody doesn't pay attention. You need a web browser and internet connection. If you are curious and interested, you will find the game here: Spyfall
Afterwards, the famous game 'truth or dare' formed the closed. Of course, we had to finish any time because it was already 3.3 a.m. *snicker* Everyone went to bed and fell asleep.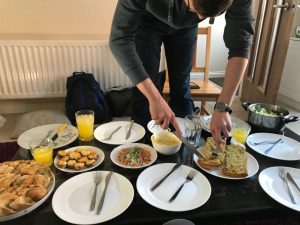 7th of May in 2018:
Today is a bank day, Early May, in the United Kingdom. The Belfast Marathon took place, but we didn't leave the house. Maybe I was too lazy *snicker*.


Because of the long party yesterday, we slept in until 11 a.m. I relaxed and enjoyed the whole day by eating, playing games (Scattergories, Skribble.io and Age of Empires II) *LAN Party No.2 * and watching a movie with the others. Tim visited us for dinner and talked and discussed the plans for the weekend. We had 'Toast Hawaii' and for dessert a fruit cocktail without alcohol, of course. 😀 It was fun to do nothing once in a while. Of course, my sense of doing some chores never stops, sadly. That's why we did our laundries as well. That were three great days.
-Huong Giang-