Life in Belfast has been very natural the last few weeks. It feels like I've settled in. What else can mess up this ordinariness if not a busy, touristic weekend? My parents visited me and together we discovered the gems of Belfast.
Everything started on Friday night, my parents randomly found tickets to a Pirates of the Caribbean screening. At the price of 5 pound it was quite cheap and the location was appealing. It was held at the Titanic Museum. We somehow thought that it would be a theatre play, or a fan made movie adaption but it ended up being the screening of the actual film (well, that explains the suspiciously low price). Since I like the movie anyway it was still a nice event to go to, and the location was fantastic. We would visit the museum itself on the next day. When the movie finished it was half past ten and surprisingly still bright outside. That's actually a very positive trait of Belfast: The hours of sunshine are noticeably dominant (if not covered up by rain clouds).
On Saturday my parents picked me up and we went to the Botanic Gardens (which is very close to my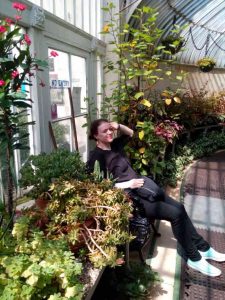 accommodation). It was a bright and warm day and the park was the best spot to be at, at that time. There were some visitors, but it was really no comparison to what a sunny day in a park in Berlin looks like, where every centimetre is used up. The tropical ravine is located in the middle of the garden, it's a palm house which offers a variety of different plants. The temperature inside of the house varies from high to very high. The relatively warm day in Belfast felt refreshingly cold after leaving the heat hell again.
The Titanic museum is probably the most notable thing about Belfast. The Titanic ship was built here and the story of its building is very well depict. There is even a roller coaster ride included. Yes, it still counts as a roller coaster ride even though the speed never exceeds 2km/h. The museum is generally designed to be very atmospheric. Once we reached the point in the building where the ship sank, the temperature dropped, the floor was getting darker and distinct beeping of a radio set was heard. The tour ended with the many adaptions of the story surrounding the Titanic and of course – "My heart will go on" was not amiss. Apparently some other people out of our afib group also went to the Museum on Saturday. If you are interested in further details about the museum I am recommending you to read their articles.