(quote from an unknown author)
3rd of April in 2018:
Finally, the holiday is over. I was bored because, when I arrived nearly every shop was closed. But to my surprise some shops were open. It is different than Germany. I like it. I can buy stuff even when there is a banking holiday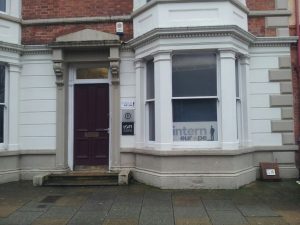 InternEurope organised an introduction meeting at their office. All participants get together at 10 a.m. The staff members talked about formalities and answered our questions. Knowledge, which I gain, was about Belfast quarters. The city has five quarters, which are cultural areas.
– City Centre
– Cathedral Quarter (North Belfast)
– Titanic Quarter (East Belfast)
– Queen´s Quarter (South Belfast)
– Gaeltacht Quarter (West Belfast)
Later I will discover the sights; I can tell more about the different Quarters of Belfast.
One of the staff members did a small city tour with us.
She introduced us some sights or parts of Queen´s Area, i.e. Belfast City Hall, a cinema and the Visit Belfast Welcome Centre Tourist Information. The last one is a small centre opposite to Belfast City Hall, which has a lot of information about accommodation, visitors attraction, transport and so on but also souvenirs. We went into it to gather some information. Some of us bought a ticket for the bus or the train. Luckily I don't need one. My workplace is 15 minutes far away (It is about 0.8 miles = 1,29 km). Then Jenny, Dominik, Phi, Tim, Son and me decided to go to Tesco Superstore. Cause of heavy rain we took a taxi.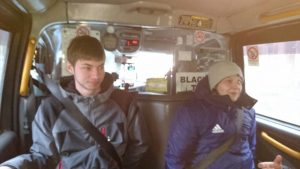 Afterwards, I went home, rested a bit, checked my e-mails and did some researches about Belfast sights or possible places for a weekend to discover Belfast.
Because of my high ability to take decisions ( *cough cough* not really), we had to decide by toss where we will have dinner.
We invited Jakob to have Chilli con Carne with us. He is one of the former classmates of another class of my grammar school. It seems the world is small like a village. And now he is my classmate of another class as well. By cutting three chilli, I burnt my fingers. But it was worth it. The Chilli con Carne was excellent. The first time I cried at my meal because of too much spicy and maybe of much fun as well.
Of course, parlour games aren't allowed to miss. Robert and Giuliano came over and played Uno and 'Der Große Dalmuti' with us. It was fun. Half past ten p.m. Tim had to *throw us out*. Tomorrow our first day at work will start, so we need to get rest. I am looking forward to tomorrow.
-Huong Giang-