(quote from Ludwig Wittgenstein)
6th of April in 2018:
First of all, everyone knows the rainy weather in Belfast. But yesterday was the first sunshine since I have arrived here. Let me share this moment with you: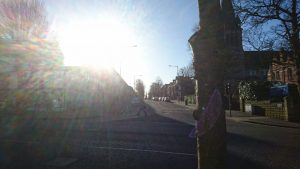 And I want to tell you about the company, where I will have my work experience the next two months:
Volunteer now is a non-profit/public organisation, who helps and support people in getting involved in volunteering. They offer information but also training for management and safeguarding as well. The company has about 50 employees.
If you want to discover more, you can find the homepage at this link:
http://www.volunteernow.co.uk/
Today:
Friday is usually the last working day of a week, but it was hard to get up today. I don't know why, but I have been sleepy a lot recently.
Work starts at nine a.m. like every day. I met more colleagues, who are returning from their holidays.
One of my colleagues said to me that I don't have a German accent but rather a Dutch accent. It is kind of funny because I don't know the Dutch language. I just have been there for three days. But I was happy about this feedback, which she said. Since I have arrived here, I am nervous about my language skills. I couldn't talk much English, just at my workplace.
Today at work I had to finish the analysing of the home page by writing a report because the responsible IT guys aren't here so I could explain everything, which I found out, verbal. Kelli was quite satisfied with my report format.
So thanks a lot to all my teachers, instructor and tutors, who had to let us writing reports a lot. I appreciate the work you had done for us.
At noon I had curry for lunch. Kelli brought a portion for me because yesterday we had a conversation about food and she saw I was kind of envious of her food. I just took an instant food package, which we got from InternEurope for the first day because it was Easter, to work.
John, a colleague, made jokes about the curry the whole day. For example, 'Giang, just 30 minutes left before you can have Kelli's curry' or 'are you already hungry?'. My colleagues are rather kind. Even I can't understand the language that quick. I hope it will be better by and by. But I want to do my best to integrate. Their heartiness, I appreciate it. They remind me of my colleagues at my first job.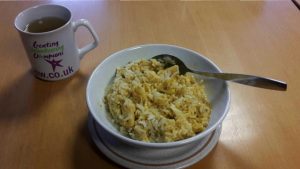 My next task was to have a closer look at a contact database. I have to do work with some colleagues, who are absent because of Easter this week. This week was quiet. Kelli told me, next week it will be busier than this week. I am curious.
Because of a small chat at InternEurope office, I was allowed to finish work earlier than usual. At the office, we just told the members how our stay, work and experiences were so far.
We wanted to have dinner at Dominik (from today on I will write Dome) Jenny's and Phi's (my abbreviation for the three are JDP from now on) accommodation. Robert and Guiliano joined us. So we separated, and some of us went and clean, another group went to Tesco to buy the groceries, and the last one brought the games from home. Our meeting place was six p.m. at JDP's accommodation. We had summer rolls.
Eating this dish takes a lot of preparation time. But it was worth it. Everybody was helping, and I enjoyed it to cook together. If nobody knows summer rolls, let me explain it: Salad, meat, omelette and rice noodles wrapped in rice paper. You can dip it in peanut sauce, sweet chilli sauce or soy sauce.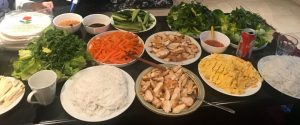 After dinner, we played card games.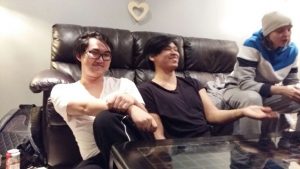 We wanted to play more board games, but we didn't bring them with us to Belfast. Luckily thanks to the internet a game was invented to play a lot of parlour games were packed into one 'Tabletop Simulator'. Phi and Dominik had brought a switch. Of course, as future information technology specialist specialised in system integrations and as fresh CCNA's for Routing and Switching, we used our networking skills to create a local network. And then our LAN party started … But it couldn't continue long, because some of us just fooled around (I mean in the game) like skipping the table, increase a pawn in the game or draw and we couldn't play reasonable. Just one game finished. It was 'Eels and Escalators' from SpongeBob SquarePants. Maybe we have to try it again. *smile*. Even though I had so much fun.
At midnight we had to leave. "Quitting while you're ahead is not the same as quitting" is supposed to say in Germany "Man soll aufhören, wenn es am schönsten ist.". We went by taxi. It is comfortable, but I shouldn't get used to it. It will be expensive at the end of the month if we add everything together.
For me, it seems that the inhabitants of Belfast speak fast sometimes. It is difficult to understand them. But I try my best to improve my language skills.
Maybe I should make a to-do-list for my stay here, what should I have done before going back to Germany.
-Huong Giang-