(quote from Mahatma Gandhi)
7th of April in 2018:
Sleeping is the best charging method for a human. So I slept until half-past nine a.m. and stayed in bed until 12 a.m. and watched series on Netflix. Nevertheless, the day started, and I decided to buy washing agent at Tesco Superstore. Of my clothes, there aren't much left, which are clean, that's why I have to wash them tomorrow.
After I had lunch, I decided to see some culture today. There are just seven weekends left, where I can experience the culture of Belfast. I want to enjoy the time here as much as I can. It feels like I wasted my first weekend by sleeping that much …At 3 p.m. we met at Belfast City Hall. On my way to the City Hall, I wanted to draw out some money, but then something happened. A 'beautiful' dove left his meal on my head. It was disgusting, and I felt ashamed. My day started badly. Fortunately, Son and Tim were there to helped me to get my credit card back from the automated teller machine (ATM) and clean my head with my water, which was supposed to be my drink for the day TT-TT. We passed the Queen's University.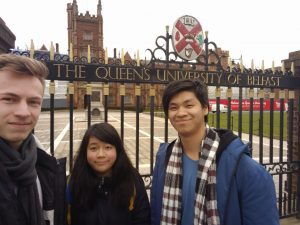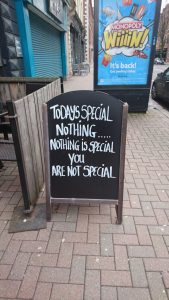 In front of the City Hall, we saw a demonstration. I didn't know accurately what the reason was. However, we saw the flags of State of Palestine and Israel, which was kind of bloody or has red colour stains, and could be reasoned. Maybe it was about the conflict about Jerusalem. I don't want to write more about this conflict because I am not good at politics, I don't know the whole story correctly (just a little bit), and I don't want to write about such a sad story.
Unfortunately, we missed the opportunity to get the last tour of Belfast City Hall of this day at 3 p.m. Nevertheless, curious and interested all of us went in to discover Belfast history. Some impressions:
The entry was free. It was an interesting museum.
We were allowed to take pictures while wearing the robe of a councillor of Belfast. We pretended that it was like a robe of a previous king. We persuaded Dominik to wear it and sit on the throne because in our small group from afib Dominik is known as 'King Dome'. But he preferred Lord instead of King if he plays along with our funny story.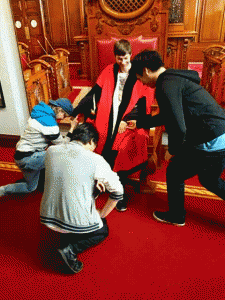 The GIF doesn't work the way I want to, that's why I refer to Dome's entry.The anecdote, why he became the king, I am going to tell you later on Lord Dome's anniversary of his coronation (the 13th of April in 2018). Of course, everything about the Story of Lord Dome is only fun. Please don't take it seriously.
After our small lesson of Belfast history, we went to Victoria Square. It is a shopping mall like Alexa in Berlin. Comparing to Alexa, Victoria Square is a plaza or a public space, where all of the shops arranged. The architecture is impressive, the arrangement of the moving stairway are nearly the same as Germany but they have something special. There is a small waterfall next to the moving stairs, where people throw coins in it. Something else, which is worth to be mentioned is the viewing platform on the top of Victoria Square. If you want to get to the upper part, you have to take a lot of stairs. The stairs ordered like a helix. Getting dizziness and maybe some acrophobia is worth the effort to see that point of view from the platform. We took some pictures together. You can have a look:
And if you acrophobia (fear of heights) it's better not to get up there because it is high.
Later on, we went to Poundland to buy some household goods and to Tesco Metro and bought some food for our dinner together. For dessert, Robert decided to make us some vegan banana pancakes with maple syrup. They were very delicious. Playing card games and 'truth or dare' completed our day. By the last-named game, you can imagine how humorously the evening was.
-Huong Giang-