(Chinese proverb)
20th of April in 2018:
A busy week at work is over, and I had a lot to do. But I don't mind. I get a lot of benefits. I remember all names of my colleagues (32 persons within this week but it was nothing comparing to the 45 names, which I memorise at my first work), get to know them better, get some information about IT employment market and received some excellent tips for my Belfast stay.
I also have to say, that three days in follow, there wasn't any raindrop or similar. Sadly, I started to enjoy the rain here.
My story of the day:
Giang: *show her the new server environment* Ok Sandra, this is the new RDS farm, which we will use in the future. At the moment it is in the testing phase.
Sandra: Oh a farm, do they have animals too?
Giang:*grin* Yeah, they have pigs and cows.
Another colleague started to laugh and grin.
Since it was such good weather (it was for about 18 degrees and sunny) after a long time, Jakob, Son and I met Dome, Jenny and Phi at the Botanic Gardens, which locates near Queen's University. The Botanic Garden was established in 1828 'by the Belfast Botanic and Horticultural Society in response to public interest in horticulture and botany' (The source was a PDF document from InternEurope). It contains a Palm House, Tropical Ravine and a glasshouse.
We went for a walk and allowed ourselves an ice cream; because there was an ice truck. Often I listened the sound of an ice truck, which passed by our accommodation. It was instead a single cream, a soft ice cream with syrup.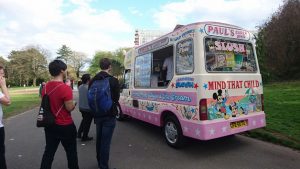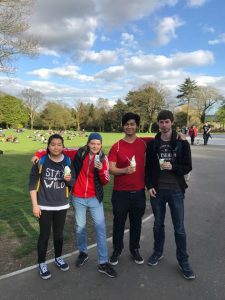 I had a lime taste. But for £2.5 it wasn't worth. With an ice cream in our hand, we discovered the green environment and talked about our experiences here. The air was fresh. Of course, the garden itself was beautiful. We had a great time there. I think it is vital to rest from time to time. Let me show you some pictures of the Botanic Garden. 'A picture is worth a thousand words.'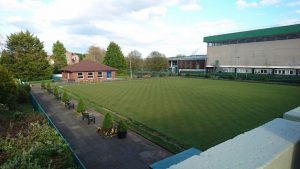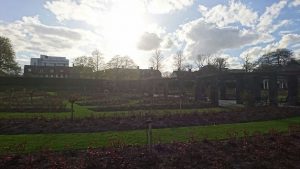 A good dinner made each day a perfect day. After so many complicated decisions and walking for about 2 hours *felt* we went to 'Wagama', a restaurant in Victoria Square, which sells Asian food, mostly Japanese or Korean food. We had Ramen, a Japanese style noodle soup, and a starter. All together we paid 98 pounds. I would give 7.5 points of 10 points because of the price of £11.25 I had a better Ramen dish in Germany.

-Huong Giang-