On Saturday the 14th of April in 2018 my started realy bad because I was sick. I had sore throat,
cough, sniff and fever. I could not breath trough my nose. But I had luck because I taken with my nasal spray from germany. At 11am Giang, Son, Phi and Dominik cames back at home because they was in a Asian shop.
Giang cooked at this day for us and I was realy happy about this. Giang maked a ginger tea for me because she sayed this will help for my sore throat. On this day I missed my mother like never before. I eat for lunch a Japanese chicken soup from Giang. In the evening we gone together to a "Escape room" with the theme "The Preacher". After the "Escape room" we gone together in the "Cuckoo" this is a geek pub. I was getting worse and worse by the hour. As we arrived our home I measure my fever and I had 39 degrees celsius. I went to bed immediately.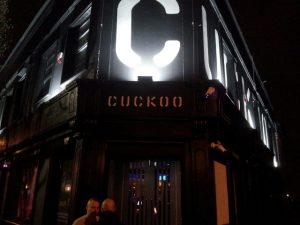 On Sunday the 15th of April in 2018 I stayed in bed all day because I was not feeling well and feverish.
On Monday the 16th of April in 2018 I did my homework in my bed because I was sick. But I gone to a Pharmacy shop to buy cough syrup. After this i gone back to the bed and worked.