I just recognized it is already Wednesday, oh shoot. Time really flies by if you do things you really like (or don't look at the watch). The second week just started and at the same time it is already ending. I think I need either to do more stuff to keep me busy or think of something useful.
None the less, all this mumbling still doesn't resolve the title. Well then, let me enlighten you.
Dominik and I thought for some time about getting a Stereo for our flat to hear some music, but at the same time we both thought about the struggle we would have if we move out after our internship. Luckily, as we were on our way to buy some food on Monday for lunch our supervisor told us "if you want to buy some electronic stuff, go to Tesco" . And so I told him about our idea of getting a stereo. He thought about it for a second and asked our colleague if we don't have any spare speakers in our warehouse. Long story short, on our way home we borrowed to mid-sized speakers for our flat.
Now we enjoy the, compared to our laptop speakers, astonishing quality of good music coming out of these speakers. The small orange box in the middle you see is our first speaker, connected via Bluetooth.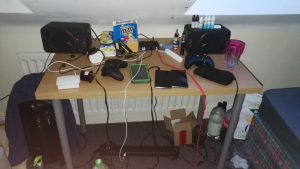 I am still very surprised how kind all these people here are. Our colleague Gareth once told me about his point of view on this topic: "Chances are high that somebody, a total stranger, starts talking with you on the street for no apparent reason and turns the way you look upon your live upside down." After being here for a week now I can only agree. I am a rather introverted person, but I enjoy the kindness of everybody, the smiling people around me and even the janitor coming every day into our office whistling some random songs that come into his mind while cleaning the rooms.
As for work itself I sadly can't really say that much. We both are currently working on ways to use the 3d printer that was bought recently. Our colleagues and the supervisor don't have much time to try out all the different things, and so this is our "main" task for now. But we were told that there will be more to do. Also, we are helping where we can, either setting up a new PC or lending a hand in deploying a finished PC to its new new user.
Well, I think that should be it as for today. I'm sitting here for nearly half an hour thinking what else to write. On the one hand I feel like there could be more to say. But on the other hand I do not really know what to write about. Thus I put a mark here with a quote from a famous football manager, Giovanni Trapattoni.
"Ich habe fertig." (I am done/ I have finished)