At Wednesday the 23th of May in 2018, on this day we had great weather and we wanted to play basketball on this day. It was so funny, because we all saw that we are geeks.
The first round Tim won and the second round Dome Nuss. After our game we went at home and I cooked for us noodles with Bolognese.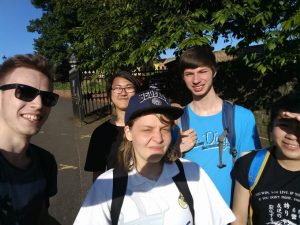 At Thursday the 24th of May in 2018, we had our finally meeting with Intern Europe and we got our certificates for this internship. As we finished our meeting we went to an American restaurant. After our dinner we went to the Spring Market at the City Hall. They had there many food shops even German bratwurst. Dominik could ordered there his Bratwurst in German. We enjoyed the great weather on the City Hall.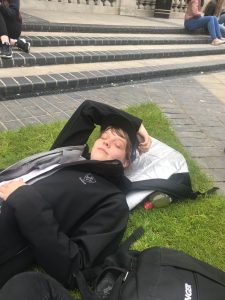 On Friday the 25th of May in 2018, I was in my lunch break with two colleagues of Datactics by the Spring Market for eat. After my work I went home and was looking forward to Giang´s Thai curry. I never eat this before, because normally I dislike curry and coconut. It was so tasty that I ate a much.