(quote from Bernard M Oliver.)
2nd of May in 2018:
Work is going well. But today I have to leave my job earlier because we got a visit from Mr Bavar, who is our Afib-coordinator and the instructor of 'Freie Universität Berlin', for a small chat with a cup of tea, coffee or hot chocolate.We met him in front of City Hall and went to Cafe Nero. We talked about our stay in Belfast, experiences, and problems. But of course, work never stops, we spoke about formalities in Germany, and we were asked if we want to participate in the Albania or Mozambique project again. If you are curious about those, please follow the link:
– Mozambique
– Albania
Next, we went to 'Boojum Mexican Burrito Bar' and had an entirely delicious dinner. I need to go there again. At 8 p.m. our ways separated.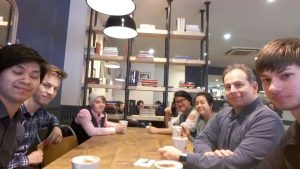 By the way, if you don't know what 'Afib' supposed to mean, a short explanation beforehand:
Afib is an abbreviation for 'Ausbildungsverbund Fachinformatik Berlin' = a joint training system of information technology in Berlin'. Three companies, in this case, 'Charité Universitätsmedizin Berlin', 'Freie Universtität Berlin' and 'Max-Planck-Institut für Bildungsforschung' are coming together to educate apprentices for information technology specialist.
If you want to know more about it, don't hesitate to click on this link to find out about Afib
3rd of May in 2018:
At work, something happened. I just went out of the toilet, and the fire alarm went on. I was confused because I thought I released it by putting the wrong button. Often I had to turn on the light in the bathroom. But luckily, it was just fire practice. Except for standing in the rain, which was enjoyable, the result wasn't well. We took much time to get out.
I attended another meeting and finished 400 lines of formatting the contact data in the Excel sheet. Today was another meeting at InternEurope office, where we received some Europass documents and gave feedbacks about our work experience and company here. Jenny made cutlet with chips and peas. (Thank you, Jenny 🙂 It was quite good.) I did a Skype call with my friend. I greet you here, Fine :D. That's why I couldn't help Jenny. But she had three other skilful assistants.
-Huong Giang-