(quote from Ryan Lochte)
14th of May in 2018:
The last but one week started today. My supervisor was absent until tomorrow. I still got my current task, to set up the users at Outlook of Microsoft Office 365.
At home, a funny situation happened. Son often arrived home late, that's why he can't make dinner for us. Therefore he used to help sometimes, i.e. taking the trash out or cutting vegetables. Today Son learned that our accommodation has a second rubbish bin. It doesn't sound funny but let me reconstruct the conversation, which has occurred today:
After he took the garbage out, Jenny asked him: 'Did you took the second dustbin too?' Son answered: 'How? We have a second one?' And everyone started to laugh. It was quite amusing.
15th of May in 2018:
I received another Excel sheet for the new CRM system, which needs to be edit. To configure the user at Microsoft Office 365 has to pause. That's a shame. In the evening I started to watch series and took it easy. At dinner preparation, for the first time in my life, nobody wanted my help in the kitchen 🙁 Today Dome made samosas, a fried dish filled with meat and potatoes, which Tim, Dome and Phi had once in Mozambique.
Let me explain the background story of today. Because of some jokes, we wanted Dome to cook samosas for us. And I said: 'We don't want to be mean, that's why you are allowed to have one assistant in the kitchen'. Jenny said immediately: 'But not Giang! Tomorrow will be a girls-free cooking day.' So that was behind of today. When I wanted to enter the kitchen, everyone only told me: 'Giang, go away. Watch series on Netflix. Sit back. Relax. You aren't welcomed here :P'. For the first time, I was sad for not allowed to be in the kitchen. Jenny and I started to watch Titanic, the movie from 1997, 'cause I didn't have watched it yet. The beginning was enjoyable. I look forward seeing the rest of it. From time to time Jenny checked on them and reported that it looked like a bomb knocked into the kitchen.
In the end, even there were some complications during the cooking process, the samosas turn out quite delicious. Thank you for cooking Dome.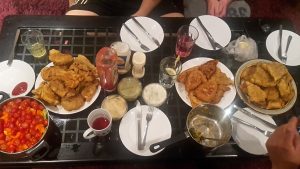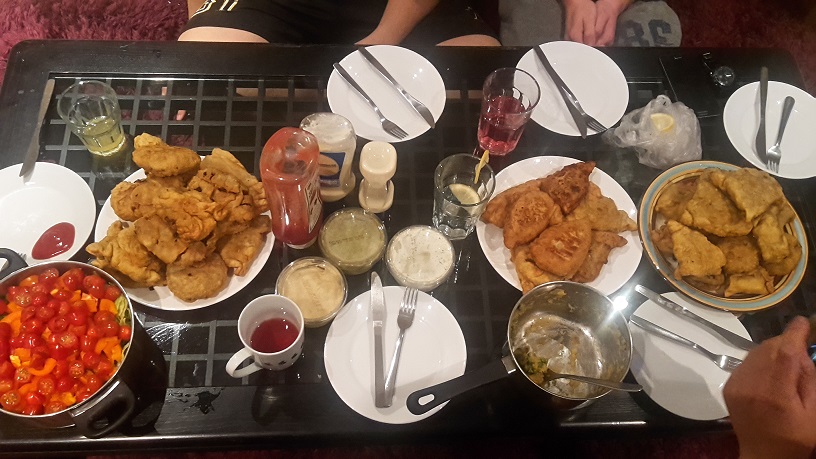 16th of May in 2018:
Luckily, Work goes well at the moment. I finished setting up all user at Office 365. What's left is giving the colleagues/user their password to test everything on the new server farm.
At home, I went with Phi to Tesco Express and Dunes Store to buy ingredients. Today it's my turn to make dinner. And Tim wished for fried rice 😀 that wasn't difficult for me because this dish was the first, which I've ever had cooked myself.
At Dunes store at the cashpoint, the cashier saw my jumper, which has a label 'Past vs Future'. He said: 'The slogan doesn't make sense. It there would be a battle between the past and the future, the past would always win because, without the history, there won't be a future.
On the way to our accommodation, Phi and I had lovely ice cream. I had 'Raspberry Riple' and 'Honey Comb' and Phi had 'Mint Chocolate'. When we arrived at our home, Tim was attendant. I started to made dinner, and with the help of my skilful sou Chef, everything had been done by 7 p.m.
Thank you, Phi for always helping me 😉
By the way, we had to less storage on our blog, and now it was upgraded to 1 GB. I think I have to upload some more pictures if I find some nice ones.
After dinner I was taken sick, I think maybe because of to less sleep and cold. I was vertiginous. Every time this experience is only awful. I went to bed and slept a lot.
-Huong Giang-